Blog Archives
Hellooo… How is everyone's weekend going? Mine started with work. At 5am. I spent so long going through old pics for Flashback Friday last night that I didn't have time to prepare a breakfast cookie! So I microwaved oats at work instead…
One packet of President's Choice multigrain instant oats, 1 cup water, 2 tbsp soy protein powder, cinnamon, shredded coconut, 4 dates, cashew butter. Oats never keep me full on these early mornings for some reason. My tummy was growling less than two hours later. Ohhh the mystery that is my tummy…
Lunch was also microwaved.
Campbell's herbed chicken with brown rice. I "beefed" it up with some leftover tofu from last night.
x10
It was a crazy busy morning. One of those mornings where I found myself running down the hallways and reading newscasts out of breath. Ahhh…deadlines. I did however find time to scoot on over to the market and get a bounty of goods!!
Romaine
Cucumber
Tomatoes
Beets
Purple "green" beans (purple beans just sounds weird…)
Cabbage
Potatoes
sliced Smoked Montreal beef
Cabbage roll
Despite all my wonderful fresh food, I was having a major hankering for chocolate. So I snacked on a chocolate chocolate chip crisp Myoplex bar.
Well, it was definitely chocolatey! I found it was a little dry and mega rich, but still good. The cinnamon flavour is still my fave!
Oh, and I also had the world's gooey-est fig.
Bursting with yumminess!! I wish I could find fresh figs around here, I'm curious as to what they taste like…
I'm running a 5k race tomorrow, so I wanted to keep my exercise today light. I opted for a walk downtown so I could pick some stuff up. The weather was gorgeous!
Wanna come with?
I started on the trail across the street…
And continued along the river…
Until I got downtown.
Passed a few familiar buildings, like the courthouse where I spend many days reporting.
And city hall, where many late nights are spent covering council.
Then it was off to Victory Meat Market.


 
Ironically, I was there to pick up some of their cheap fruit! :P
Cantaloupes for 99 cents. Suh-weet deal.
Then it was off to the Running Room in search of some Gu.
Luckily, I got there just as they were closing, otherwise I would have easily dropped money I don't have on expensive running gear :P
And my final stop before making the trek back home was Second Cup.
I wanted something to quench my thirst, so I got myself a little treat.
Sugar-free strawberry Italian soda. Basically sucralose in club soda :P
The other wonderful thing about the river route, is there are gorgeous homes on the other side of the road.
I'm partial to this one because I have extended family that used to live there. It's beautiful (and huge) inside.
And then home!
Overall I covered about 5 miles (8 km) in two hours. Much longer than planned. I live an extra 15 minute walk from my old place, I forgot to factor that in!
I was starving by the time I got home. It'd been a long time since my 10am "lunch." I threw together a meal made up of my market goodies.
Haha, that cabbage roll looks so gnarly, but it was delicious! It was filled with rice and ground beef. Bought from my favourite Lebanese stand :) There's also a cucumber salad made up of just cucumber, yogurt, lemon juice, garlic and dill.
Finally, the green stuff! Those are the greens from my beets!! I couldn't just cut them off and throw them away, especially since there was so much. So I cooked it my favourite way to eat greens, sauteed with garlic, olive oil and parmesan. It was delicious. I couldn't really distinguish a huge difference from spinach. It's maybe a little less "tough" and didn't dry my mouth out like spinach always does.
Dessert!
Dates + cashew butter. This is a combo that was just meant to be. I don't know what it is but the two flavours compliment each other perfectly, more than peanut or almond butter!
I'm starting to get pumped for my race tomorrow! I kinda feel like a huge loser because I'm doing it all alone. But it's at 2pm, and I work till 12pm, so I figured I might as well go run it seeing as I'm always working during the morning races. I don't have any huge expectations as I'll likely be sleep deprived and coming off a full day of work. I just want to go run my little bottom off and have a good time! :D
See ya for the recap tomorrow!!
Question of the day: What's your favourite kind of "ethnic" food? I'll gobble up anything Greek, Lebanese or Moroccan. Yum!
You know what day it is… 
Waflle Wednesday! Yay!!!
I worked hard for these waffles though. I was up early before work to pay a visit to my new gym. I slept like a log last night, which is very rare for me. Usually I wake up a few times throughout the night, but last night I was out solid until my alarm went off! I think it's just because I'm beat from moving, but hopefully I continue to sleep well in my new place :)
Gym visit this morning was awesome. One of my favourite things about my new gym is that they have a plethora of cardio machines, none of which have time limits, or required sign-up. Which makes jumping on them randomly throughout a workout very easy!
Duration: 1:07
15 minutes on the elliptical, increasing resistance every 2 minutes
three sets barbell squats
three alternating sets dumbbell shoulder press and curtsy lunge
10 minutes running on the treadmill, increasing speed every 2 minutes
three alternating sets cable horizontal woodchop and back extension
10 minutes on the rowing machine, alternating underhand and overhand grip
two minute plank as the cherry on top ;)
I didn't bother counting reps today. Instead, I lifted until it felt really hard, then did two more reps. It was fun! I'm so far in love with my new gym. Tomorrow night I'm trying out one of their yoga classes.
Then it was waffle time.
The usual mix. Two Nature's Path maple cinnamon waffles, almond butter, yogurt, blueberries. Apparently the first week of September is also waffle week. I didn't have time this morning, but tomorrow I will be having some fun with waffles!! :D
I also cut the BS this morning and put my protein powder directly in my coffee.
Just stirred about 2/3 of a scoop of chocolate whey into my chilled brewed coffee. It mixed very well, I was impressed!
For some reason, I've been on a bread kick lately. I think it's because I cut "light breads" out of my diet, so I've been eating the real stuff. All I want are sandwiches!
This particular one had turkey, hummus, laughing cow and romaine.
No better way to polish off an old-school sandwich than with an apple.
This was another new apple to me – a Paula Red. I didn't really care for it. Too sour, too soft.
A festive Larabar was also consumed during my work day.
I remember liking the ginger snap flavour the last time I tried it, but today I found it was too spicy. Anyone ever notice Larabars can be a little "over-spiced?" It would probably be good crumbled over something though. Or, with cream cheese icing :P
I had a loooong afternoon at work. An early lunch + late dinner = one hungry tummy come 4 pm. So I swung by the Bulk Barn to pick up some rolled oats and a snack. Figs!
These were just bursting with crispy/gooey goodness on the inside. They held me through getting many last-minute stories written up.
My mother text messaged me today to say that she saw yesterday's blog, and that I needed placemats for my dining table. I know better than to go against my mother's wishes, so I made sure to get some for tonight! :P
Is that better Mom? :P I bought them for a buck each at the Dollarstore.
My mother also provided the food on that placemat. Veggie pizza she left in my fridge, that I added some broccoli to. Made in my brand new toaster oven (I can already tell we're going to be best friends).
My side salad was just garden veggies topped with cottage cheese. This was a huge meal and I almost ate all of it! My crazy hunger is starting to get a little more under control though. Hopefully it's back to normal by tomorrow!
 
To my fellow Atlantic Canadians: This Friday is Eat Atlantic Day. It's a challenge organized by the Co-op store, to eat only food produced from the four Atlantic provinces all day Friday. They're pretty lax with it. For example, they approve Just Us! coffee because it's roasted in Nova Scotia. Anyways, I encourage you to check it out! I won't be participating, mainly because my life is way too hectic at the moment. But would everyone else out there be interested in a similar challenge that we can all take part in? We can all pledge to eat "regionally" for one day. It'll be fun!
Anyways, Chris just got here and is demanding my attention. Hope your week is filled with waffles! ;)
I've got lots of food photos today! Not really sure how that happened… Oh wait, yes I do. I've been eating all friggin' day. It's just been one of those days where I have no energy or desire to do anything, except eat. It's not just boredom eating either, I've been genuinely hungry all day. My body never ceases to confuse me…
I slept for about 7 hours last night, not too bad. Got up and did some yoga for low back. Then I had a chunk of frozen oatmeal.
Looks appetizing, no?
It's this stuff:
Beside it's ability to knock someone out, the frozen block is relatively safe.
After about 5 minutes and some fixins, the frozen block turned into this:
Muuuuch better :) I stirred in 1 tbsp soy protein powder, then topped it with half a banana, peanut butter and cinnamon.
Taste wise, it was pretty good. Just a hint of sweetness, the perfect amount for my taste buds. Texture wise, it was awesome. I've only ever had frozen steel cut oats before, but I absolutely love what I have tried. Kind of like a smaller, creamer version of wheat berries.
it was not very filling though, so some serious snacking begun. I should know better than to snack on odd things here and there, because they never satisfy me. I probably end up consuming a lot more calories by munching on things instead of sitting down and having a legitimate snack.
Aaaanyways, here's one of my random snackables.
Dried turkish fig. I've only had the calimyrna variety before. This was much bigger, and slightly less sweet?
Love the crispy/chewy texture!
More morning snacks included a VitaMuffin. I took a cue from Brie and slathered it in PB after warming it up.
Still crumbly, still delicious.
I finally caved and had an early lunch. The star of the show was this guy:
President's Choice Mediterranean cottage cheese. Holy crap. This sh*t is good. I had to force myself to stop eating it out of the container so I could put it in a wrap.
The wrap is just the cottage cheese with assorted veggies, then some extra assorted stuff on the side with tzatziki. SO GOOD.
Then started my agonizing over whether or not to go for a bike ride. Sheesh, I was getting annoyed even with my internal dialogue!
"My body does not want to move today. I don't think I can get out of bed let alone force myself through a hill workout on my bike."
"But it's going to rain tomorrow and Saturday has to be a rest day. It's now or skip it."
"There's spin class tonight, I could just lay around some more and do that later."
"Ugggghhhh but I don't feel like doing anything."
This lasted for about 2 hours, and included a 20 minute nap. It took me an extra hour to get into my gear, have a snack, and get out the door. But by golly, I got out there!!
Duration: 1 hour and 11 minutes
Distance: 29 km (18 miles)
Avg Speed: 23 km/hr (14 mph)
Max Speed: 41 km/hr (25 mph)
Avg HR: 137
Max HR: 167
Calories: 538
Not gonna lie, most of my motivation came from knowing the ride would offset a lot of my snacking. I hate making calorie burns the reason for my workouts. But hey, I'm a girl, it crosses my mind.
Overall, I give this ride a solid decent. I tackled the biggest hill known to man (I'll leave it up to you to decide if that's an exaggeration) only once. I skipped it the second loop around. Only because I was getting weird pains in my legs and my energy was pretty nil. I had to dig deep to get up it at all. Much like this…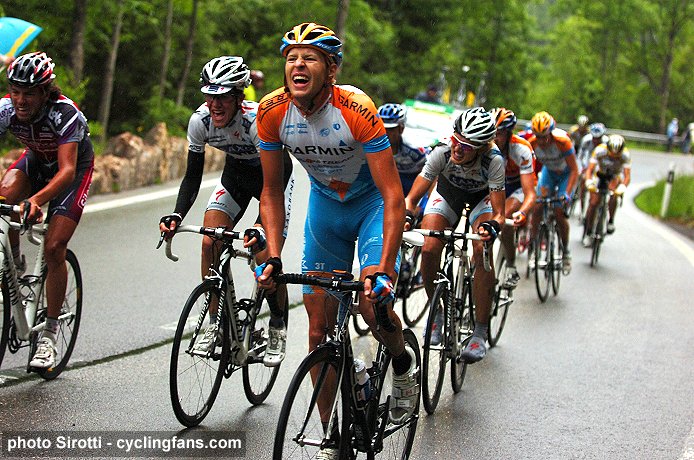 I'm glad I went biking, but I'm also glad it's over. Now I'm even more pooped than I was to begin with.
Moving along, my reward supper was awesome to the MAX. Homemade burrito!
I'm quite proud of this little spicy nugget. The contents contained a Sol spicy bean burger, laughing cow cheese wedge and Eden Organic Caribbean rice & beans.
The bulk of my canned goods are Eden Organic. It's more expensive, but one of those expenses I'm willing to pay for.
My least favourite thing about those Sol burgers is that they're a little on the mushy side. But it made for an awesome mashed filling!
The laughing cow definitely made it though. I didn't want to use cheddar because I had the feeling the flavour would get lost. It was a good call. Oh, and I'm trying to use up those white flour tortillas, hence two of them today. They are definitely made for burritos!! Best use for them yet!
Okay, that's about as exciting as I'm going to get today. I'll stop the rambling here. Tomorrow, I'm going to do a post on workout music – I'm excited!
Question: Have you been following the Tour de France? Thoughts on Contador? I've determined he's a douche. But it's looking like he's going to take it now. I'll at least be content if Andy and Lance are on the podium with him. I like Wiggins, but I've still got my panties in a knot over what Garmin and Astana did to George-y boy in 14.
If you're not into the Tour, what sports do you follow?